5 benefits of working with a mobile extraction lab partner
5 Benefits of Working with a Mobile Extraction Lab Partner
Demand for CBD and THC distillate products continues to rise as countries around the world legalize hemp and cannabis for medical and recreational use. This booming industry is attracting brilliant entrepreneurs and engineers looking to capitalize on this unique opportunity. Edibles, topicals, and vapes all offer alternatives to smoking for people who want to experience the benefits of the compounds found in hemp and cannabis, which is driving the need for high quality distillate, and better extraction solutions.
Challenges in building an extraction lab
Cannabis and hemp cultivators and THC and CBD product creators alike know how important the extraction process is when it comes to creating high-quality products for consumers. But, building an extraction lab is no easy task.
What extraction process is right for you?
First, you must identify what extraction process is right for you. Solvents such as ethanol, carbon dioxide, and butane have all been used to extract CBD or THC distillate from hemp or cannabis biomass, but to understand what process is right for you requires lots of technical expertise and planning. (Here's why we chose an ethanol extraction process).
How long does it take to build an extraction lab?
Build-your-own labs can take up to 2 years from project launch to completion. We've seen companies purchase the wrong equipment, struggle to get certifications and create their SOPs, and spend time searching for experts to help them complete the project.
What does it cost to build an extraction lab?
Project costs on build-your-own extraction labs can reach as high as $3,275,000 for a 1500 sq.ft lab, and as high as $7.5 million for a 2000 sq.ft lab. These costs are associated with building a clean room that meets C1D1/C1D2 standards, and sourcing and installing the right equipment for your chosen extraction process.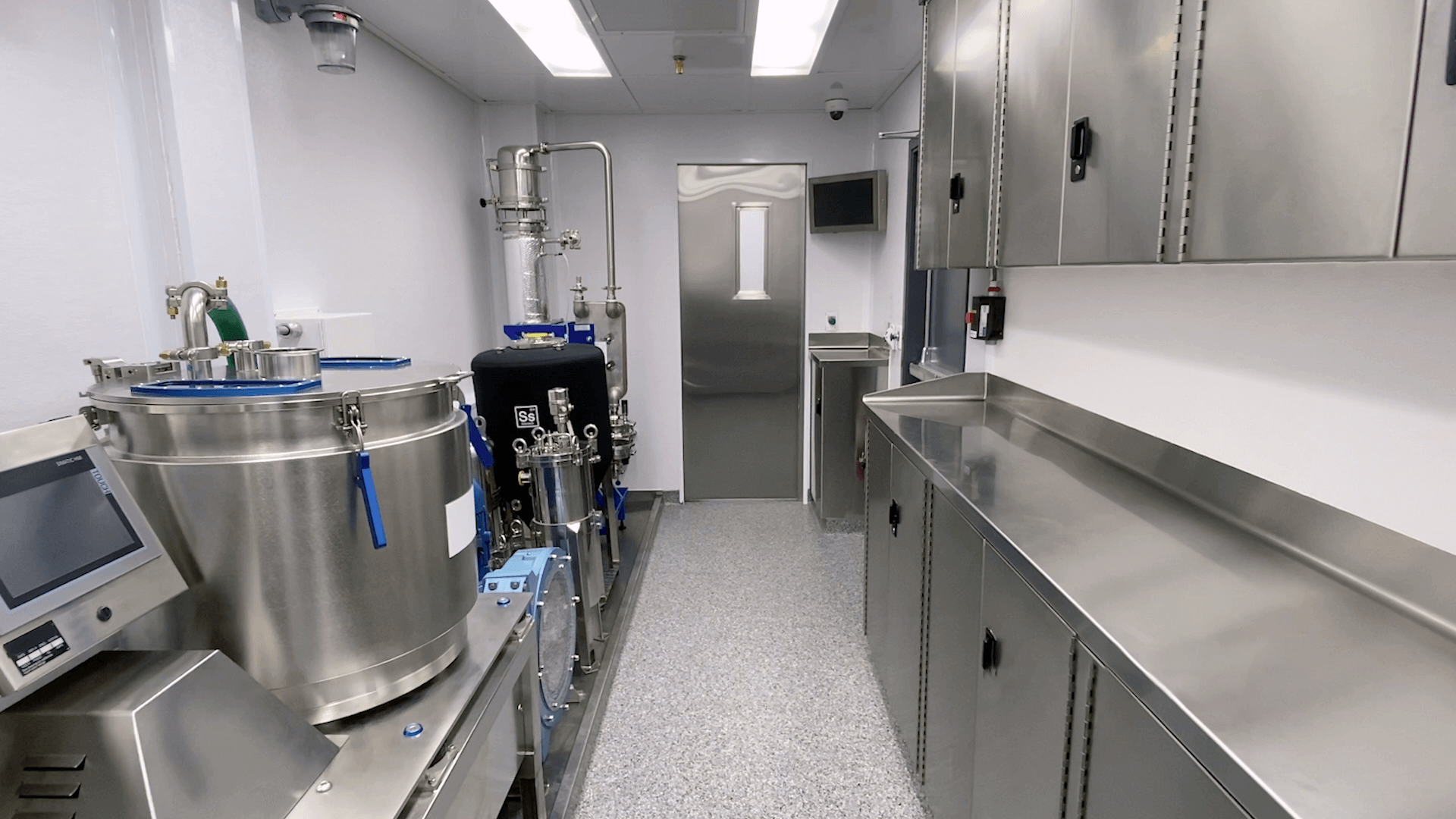 How do you manage the staff and operations of your extraction lab?
Completing the lab build is just one hurdle. You'll then need to source the right staff, train them on your SOPs, and manage them on an ongoing basis.
Benefits of a mobile extraction lab
Mobile extraction lab partners like extractX present a new option for companies who want to have an extraction lab at their facility, but who want to avoid the challenges above. Owned and operated by a partner company, these self-contained suites are customized offsite and delivered ready to be placed inside of or adjacent to an existing facility building.
Mobile extraction labs produce the highest quality distillate from cannabis or hemp biomass
In the extractX model, since we're managing and pulling data from labs around the world, we're able to learn and optimize our labs much faster than companies building their own labs. Our focus is on constructing the best extraction labs on the market and operating them to produce the highest quality distillate, meaning you don't have to worry about those aspects of your business.
Production is scalable, flexible, and efficient
These mobile units can be used as a primary extraction lab, or to supplement existing lab facilities. Because they are self-contained, it's relatively easy to scale production up or down as dictated by business needs, with managed staff working 1-3 shifts per day, 6 days a week. New labs can be added to support further remediation or separation processes, or to pursue new markets.
Mobile labs are pharma-grade certifiable
Self-contained labs are equipped with operational permits to meet local Authority Having Jurisdiction (AHJ) requirements, have fully documented Standard Operating Procedures (SOPs) to meet regulatory compliance, and fit easily into existing operations. Recent changes in the regulatory environment allow these labs to operate under the producer's existing license. There is no need to apply – and wait for – a separate license for these units.
Labs are future-proofed
The cannabis and hemp industry is a rapidly evolving landscape where you have to stay ahead of technological advancements in order to remain competitive. Engaging with an extraction-as-a-service partner means no commitment to a specific piece of equipment. Technology maintenance and process upgrades remain the responsibility of the mobile lab company.
Mobile extraction labs are fully staffed and managed
Finding people with the right experience and skills in this competitive talent market is a challenge. Extraction-as-a-service removes this hurdle, since the partner company hires, trains, and oversees the technicians needed for ongoing lab operations. Instead of spending time sourcing and developing talent, you can remain focused on your product.
Highlights of the extraction-as-a-service model
Lab is owned and operated by the partner company

A team of experienced scientists and engineers develops the process and secures equipment that functions seamlessly to deliver on contractual requirements

Labs are built to comply with local regulatory standards and come with documented SOPs

Labs are delivered to a facility ready to start processing within a short time of arrival

Trained staff manage ongoing operations – 1 to 3 shifts daily, 6 days a week

Technology upgrades are the extraction partner's responsibility
Hear from one of our partners about how they're leveraging extractX mobile labs to capitalize on the booming US CBD market here.
Is a mobile extraction lab right for you?
If you're a hemp or cannabis cultivator, processor, or formulator creating CBD or THC products, and want to penetrate markets faster with no lab CapEx, then a mobile extraction lab may be right for you. If you are processing more than 75,000 lbs of biomass per year and are interested in a turnkey extraction lab for $0 lab CapEx and 4 months to installation, we want to talk to you today! Please contact us to learn about becoming an extractX partner.
To learn more about the benefits of an extractX lab, and some of the challenges you'll face building your own lab, download our discussion paper: Proprietary construction or a self-contained extraction lab: what's right for your company?
Follow us on social media or sign up for our newsletter for company updates and more content like this.